Brita Holli ze Suché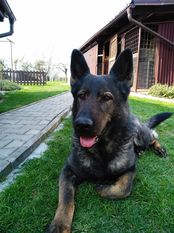 Plemeno:

Varieta:

krátkosrstý

odchováno v:

volací jméno:

Brita

Datum vrhu:

29.09.2012 (6 roky/let, 7 měsíců)

Výška / Váha:

59 cm / 30 kg

Číslo čipu:

Viditelné pro registrované uživatele

číslo zápisu:

CMKU/DS 87815/12

Kynologická asociace:

Viditelné pro registrované uživatele

Chovnost (PT, kód):

5JV1/P

Výsledky výstav:

VD

Zkoušky:

Viditelné pro registrované uživatele

, IPG-FH

Výsledky zdraví:

Viditelné pro registrované uživatele

Majitel:

Viditelné pro registrované uživatele

Chovatel:

Viditelné pro registrované uživatele
výběrová, bon.tř.: I. bon.kód:... více

0

26963
Zapni si nyní všechny funkce zcela zdarma!
WD-zdraví: Zdravotní výsledky psa/feny Brita Holli ze Suché

On working-dog the health data are taken very strictly.
Therefore it is possible to show the data verified by working-dog.
Green labeled results are checked, respectively occupied and can not be changed. Black marked entries are unaudited.
1. generace
2. generace
3. generace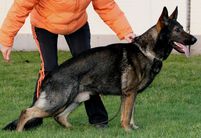 14.12.2005

SZ 2176279

Viditelné pro registrované uživatele

HD/ED normal
30.08.2000, SZ 2070827

Viditelné pro registrované uživatele

normal

05.12.2002, 2103703

Viditelné pro registrované uživatele

a-normal
29.06.2006

VDH/SZ 9146256

Viditelné pro registrované uživatele

HD normal
20.02.2002, SZ 2100028

Viditelné pro registrované uživatele

HD normal


žádné dokumenty k dispozici
11.8.18 Morning timer on grassy, dry stubble, about 1000 steps, 30 minutes, 3 objects, flaw at the base of the quarry, crooked marking of the 2nd object, loss of trace in the arc.

1.8.18 approx. 1300 steps with 5 terrains (oranice, grass, asphalt, stubble, limestone), age of 30 minutes, 3 objects.

29.7.18 Morning walk footprints at 10.45 am, leaving on track at 21.15, temperature 29 st.C., 2 objects, track about 700 steps. Error in first segment and first quarry. Then the track without errors. In the trail of the evening serving of granules. Yesterday, she would have mastered longer and older tracks

25.7.18 footprint on finer storms, about 1400 steps, age of 165 minutes, 5 objects, 2 mistakes on boulders

22.7.18 1200 steps on a dry stand, 3 mistakes (2 on sharp quarries, 1 on blunt), about 40 minutes old, 4 items, 4 times crossing in marked places (no problem), temperature 27 st.C) at 20 o'clock) .

12.7.18 A walk in the grass, about 1600 steps, 90 minutes, 5 items, partly irregularly in the trail.

1.7.18 2300 steps on the grass in a video of about 10 minutes, a walk on a track for 45 minutes, 5 items, 6x foreign crossing, of which 4 times in the marked place, the end of the trail, the trail partially fattened.

27.6.18 - Footprint on wet ponds, mild side wind, traces of morning granules (irregularly), 4 objects, second hold to collect granule, crossing quarry and loss of trace solved itself, about 1800 steps after 30 minutes

22.6.18 heavier footprint of rain in the woods. After 6 minutes, the camera blew itself and spilled again at the very end of the track. So, in my opinion, the nicer and more accurate part of the track did not work. Record footprint about 600 steps, we went after 30 minutes, 2 objects. She alone solved the loss of a trail that led through leaves, needles, twigs, and other forest stands.

6.6.18 cut meadow, trace partially fattened, about 900 steps, 45 minutes, 4 objects, moat track, attempt to send remotely.

1.6.18 footprint, about 900 steps. 30 minutes, 4 items, granules only in the tread, unwanted crossing of the person with the dog, fault at the quarry.

22.5.18 foot in lower and higher grass, about 1000 steps, 3 objects, 70 minutes, occasionally in trace of granule

17.5.18 foot on the grass, granules only in the tread and behind the object, about 1300 steps, about 45 minutes, 4 objects, a fault on a sharp quarry.

27.4.18 heavy track on heavy aluminum terrain, after 30 minutes, about 1200 steps, 5 objects, quarries

22.4.18 heavy track on clay, reward only for objects + 2 pieces in tread, length approx. 1400 steps, 90 minutes, 6 items, heat, bitch solves the problem itself

17.2.18 shortened version of the track from the point of view of the handler when shooting the same track from the side.

12.2.18 sowing, track length approx. 2200 steps, trail age 150 minutes, 6 objects, quarries, sharp quarries, arcs

9.1.18 sunbathing padding under strong wind from part to leisure, 7 items, trail age approx. 100 minutes,

1.1.18 both new year and year round, I. part, grass, about 3000 steps, 10 objects, 120 minutes, several crosses in the marked section, quarries, more sharp. Footprint scanned by phone

11.10.17, field, wet earth, wind, about 1200 steps, 120 minutes, 5 objects, 6 quarries of which 4 sharp, curves

28.9.17 II. part - grass, about 2500 steps, age of tracks 180 minutes, 13 quarries of which 2 sharp, 6 objects, 6 crossing traces, curves

12.9.17 - footprint, 240 minutes old, 3 items, quarries and arches. The meadow a day before the track was fertilized.
19.5.19

19.5.19

12.5.19

12.5.19

9.5.19

2019

8.5.19

6.5.19

4.5.19

26.4.19

2017

2018

Brita mezi psy

12.4.19

9.4.19

10.4.19